Maybe it's synchronicity, I don't know, but several of my upcoming knitting projects happen to fall into the color triad for the first two months of Project Spectrum. Here are my plans:

Way last year (or actually the year before I guess!) I bought three skeins of powder blue Baby Alpaca Grande (color 3317 I think) intending to make something for which I couldn't get gauge, and I've been hoarding it all year waiting for a pattern to call to me. I finally decided on this and I'm so excited to finally be able to use it!

How embarrassing - it's my Knitting Olympics shawl, still unfinished. Looks like I still have a ways to go: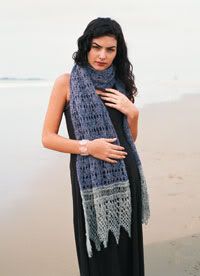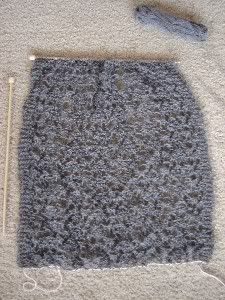 (I don't know why I think it will be easier to do this year - my daughter is 15 months now, rather than only three, is self-propelled, and requires a lot more attention!)

This is the Meg Swansen shawl from Vogue Knitting Fall 2005, and I think it is also in the Vogue Knitting on the Go: Shawls book. I'm making mine in Frog Tree Alpaca in a fingering/light sport weight, in gray and natural. I love knitting with alpaca.

I love alpaca so much that I am making this sweater in Debbie Bliss alpaca silk in a deep teal color. I'm not a blue person, really, and here I have two blue projects ready to go. Actually, this one was started before I saw the Project Spectrum post for this year. But it won't be done before February, so I say it counts.


I've also been planning to make this sweater from the Spring 2007 Knitscene. (Actually I want that whole room.) I can't afford the Rowan Holiday the pattern is written for, but I happen to have a full bag of R2 Paper in the stash (in gray even) that I got for ridiculously cheap off Elann, and I think I can get gauge by holding it doubled. I think the design is loose enough and the yarn airy enough that the fact that it is 100% nylon won't be as big a deal as it would for something close fitting. (Why did I buy that stuff anyway?)

My sister and I spent some quality time at Weaving Works on Sunday, and I came away with two skeins of Colinette Jitterbug (despite the "knit from stash, damn it!" diet), in Castagna and Marble. I didn't put it together until today that the Marble is, duh, mostly white. I think I'll do the Monkey socks. Once I finish one of the pairs I have going and free up some size 1's, that is. (I know the pattern says US2. I'll need the 1's, trust me.)

Think that's enough for two months?