So, I didn't go with the Elbac scarf, but my sister decided to knit it in a natural colored chunky alpaca held together with white Kidsilk Night, and it is beautiful!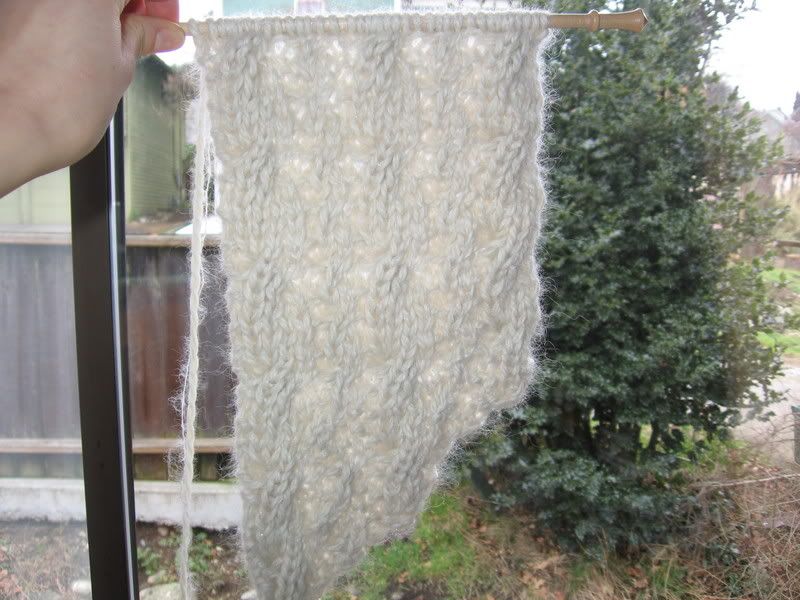 Instead, I started the scarf part of the scarf/wrap/shawl from Alterknits.




I had forgotten about this pattern, even though it's been on the long list of things I'd like to make someday. The pattern repeat is easily memorized (it helped me to chart it first - once I'd done that, it was ingrained in my memory) and is so easy that I'm afraid I might get bored. I love how the whole wrap looks though, so I think I'll plod on through and do both parts.

I found an error in the free pattern for the Rebecca sweater I've been working on. The armhole shaping, as written, doesn't match:



Yes, I read the pattern, noticed, and then went ahead and did what it said anyway. Why? I don't know. Now I have to rip these rows out and do both sides like the photo on the right. I think the single purl in between the decrease and the two knit stitches looks better than two purls. I can't tell from the pattern photo which way the Rebecca people think it should go, so I'll just do it my way.

I finally started the elbow-length, green armwarmers requested by my husband:




I decided just to go with 2x2 ribbing, since he specifically said "no cables!" and I figured they would need the stretchiness since this Tahki New Tweed isn't very sproingy like 100% wool would be. It is soft though, and won't bother his slightly wool-sensitive skin. (He wears Kureyon hats just fine, but Manos del Uruguay scarves? Nooooo.) I had him try this on yesterday and he wanted it tighter around the wrist. That's my arm in the photo, so it isn't quite as big on him as this looks, and I think this size is fine for his upper forearm (does that make sense?), but I'm not sure how to decrease the ribbing for the wrist area without making it look all crazy.

So there's the knit update. I'm neglecting my Lab555 plans and several other things. Hopefully the baby girl and I will be taking a quick trip to the craft store tonight for a few supplies and I'll have some embroidered ATC's to show off in a few days. Her new favorite thing to do is to take out all the embroidery floss and remove the little paper tube things that hold the skeins together. Then she'll choose a few skeins to hold onto for awhile and pull apart into big tangles. I need to wind them onto those little cardstock holders anyway, so I let her go ahead and unravel some last night since it was keeping her content and occupied. As I cleaned them up later, I realized the ones she had chosen to unravel made a perfectly coordinated palette - pale pink, dark pink, leaf green, white and pale beige. Now I want to figure out something to make for her using those colors. I should pay attention to her color choices more often. The other day she was spreading out all of my colored pencils, and brought me two of them - peacock green and metallic green. A 15-month-old artist, perhaps?