I came across this collection by Kim Hargreaves the other day, and I am in love! But oh how sad that the patterns are only sold as kits through this site! Could I ever justify spending $95 to knit this?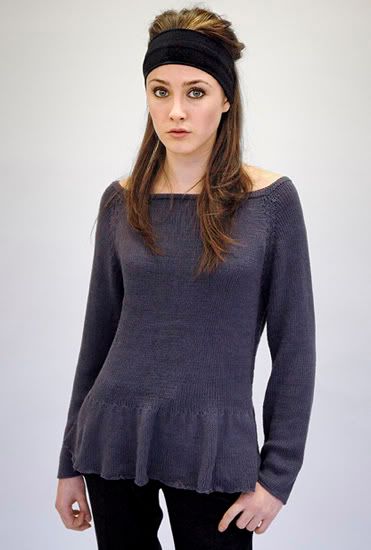 This one might be better. I can buy the pattern by itself and substitute yarn.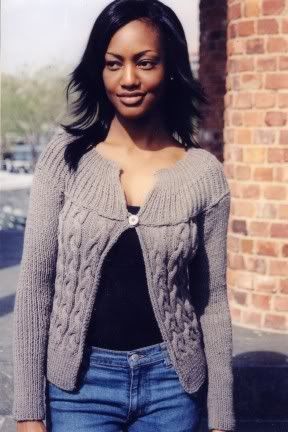 (While I've got you over on the Jimmy Beans site anyway, check out these socks. Another pattern for my Summer of Socks plan - I want knee socks for fall!)

I've been perusing a lot of sweater patterns lately. Yes, I know that I am working on two shawls, two scarves, one sock, and have half a sweater sitting over there to my left. (Not to mention the almost complete sweater that is most likely going to be frogged any day now.) I've never completed a sweater for myself. And, I've literally begun itching to knit myself a replacement for my favorite store-bought cardigan. I wear this thing almost every day. It goes with absolutely everything, and serves its purpose of keeping my arms warm while just sort of blending in as my topmost of several layers so you don't really notice I am wearing the same damn sweater all the time, since everything else changes. (At least I am going to keep telling myself that is the case.) It's a basic black cardi, v-neck, ribbed, close-fitting, and made of something synthetic that has withstood EIGHT YEARS of constant wear and machine washing without fading, snagging, or stretching out of shape. Not even a loose button. But...and this makes me sad, because I love this sweater so...I think I've finally washed all of its softness away. The poor thing is shiny in spots, the elbows are starting to show their venerable age, and my skin is starting to notice a mild scratching. And so. I am on a hunt for the perfect replacement cardigan. I would love to knit one. I'm going to stay realistic here though. To replicate the one I have would be madness - it's 4x4 rib in an impossibly fine gauge. That's the thing - a perfect layering cardi has to be fine gauge. But, I am willing to make an attempt. Several of them, really. I may not knit myself my perfect dream cardigan, but I could end up with several nice options in the process. The Karabella pattern above will be one. In worsted weight wool, though, it will be a winter-only sweater. I have enough Yorkshire Tweed 4 ply to knit Joy from Rowan's Vintage Knits (there's a photo here).

What else should I try?