Once again, I have very little knitting progress to report. Actually, I did complete something (two of them!) but I need photos before I give the details. Soon, soon. As soon as I weave in the ends (how I hate doing that!) and we get some sunshine again. We had a few hot days, followed by a downpour complete with thunder and lightning (rare here) on Sunday night. It actually smelled like rain, which is very rare here since it rains so much and stays fairly damp most of the time. I grew up in a drier climate, where a week of summer heat would be broken by the relief of a thunderstorm and the smell of hot earth and concrete soaking up the rain. Here it is rare enough to inspire open doors and windows around the neighborhood, and people out on their porches, music playing softly, admiring the warm, rainy night. After that though, we are back to the usual dreary, cloud-covered skies, and no good light for photos.

I was supposed to do some sewing over the weekend. I managed to get the sewing machine out of the closet upstairs and relocate it to the floor by the kitchen table. That was the closest I got. I was supposed to make some stitch markers too. Do you think I could find those silly pink-handled needle nose pliers anywhere? Of course not! I know they are in the house somewhere and will turn up sometime, but I'm on a bit of a deadline. So do I buy another pair and make the stitch markers, or do I order some purrrrrrty ones off etsy? Decisions, decisions.

My cardigan pattern search has turned up several possibilities. What I've found, though, is that what makes for a good all-purpose layering cardi also makes for very boring knitting.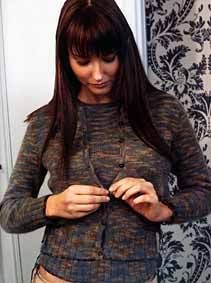 This first one is from the book Modern Classics by Louisa Harding. I'd probably want it in a solid color, charcoal or black. Can you say BORING to knit?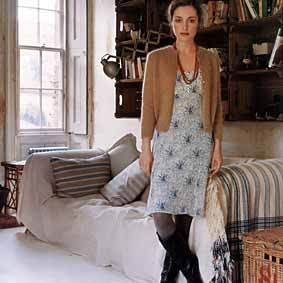 This next one is from Classic Knits by Erika Knight. I'm really liking this one (although, also, boring knit). Actually, I love everything about this photograph and I think I'd like to go live in it. The dress, the grey tights, the boots, the dark wood shelf full of books, the old windows, even that telescoping lamp. Yeah, I'll just go live there. Really though, I checked out this pattern at the bookstore since I don't have either of these books, and it would be quick. It uses Kid Silk Haze doubled, but I would probably sub the yarn. It occurred to me that I have six balls of Yorkshire Tweed 4 ply in lustre, which is an amazing dark emerald color, that I bought because it was on sale and I needed to spend a certain amount for free shipping, so I bought the number of balls that would take my order just to that amount but not over, yada yada. Anyway, six balls? It's really a random amount. But I wonder if I knit it at a loose gauge if I could get a little cropped, three-quarter sleeve cardi out of it? Joy, from Vintage Knits, takes 10 balls (1200 yards) of the same yarn for the smallest size. It's quite fitted, but has full length sleeves some other details that would use more yarn. Or is it just really, really wishful thinking that I could get a tiny cardi out of 720 yards of discontinued 4 ply wool?