Japanese craft books, fabrics, yarn, and the like are huge in the craft world, that is nothing new. But I've really been feeling the love for all things Japanese lately. Well, I've always loved pretty much anything Asian-influenced, but in the last three or four days all these things have appeared in my range of vision all at once.

A couple of months ago I stumbled upon the blog Moonstitches and was instantly taken in. Alex's style of photography and overall aesthetic is... my favorite. I don't know how else to put it. I love what she chooses to photograph and how she presents it, and I love the simplicity of her knitting and crochet, letting color choice and small details become the focus. Today she posted a Flickr set with her photographs of the Tokyo International Quilt Festival, and I think it's the most inspiring thing I've seen in ages. Those quilts are amazing! I don't have the kind of patience it takes for the intricate detail on most of them, but they are all inspiring and now I have a few ideas to play with.

I've browsed Japanese craft books online and in person numerous times, but I have yet to buy one. None of the ones that have been translated into English and become more widely available have really appealed to me. But yesterday I was scrolling through the backlog of blog posts in my Google Reader with Mina sitting on my lap, and she spotted this: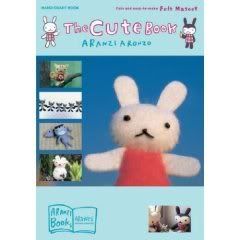 "Bunnyyyyyyyyyyy!" she squealed as it scrolled up the screen. I went back so she could see. HUGE smile on her face. "Bunny!" So I asked "should we make you a bunny?" "Yeeeeeeaaaaaahhhhhhh!" (She never says "yes," it is always a long, drawn out, soft yeeaaahhhh.) I've never made a softie, other than the bunny I knitted for Mina in the spring, but I think I'd better give it a shot. This book will be at the top of my list once the book-buying ban is called off.

On Saturday a box with belated Christmas gifts from my sister arrived. Mina's had come earlier - two books by Taro Gomi, Bus Stops and Scribbles. I had bought My Friends when Mina was tiny because I loved the illustrations so much, and it has been one of our favorites ever since. We love Taro Gomi! Bus Stops is already in heavy rotation among the favorite read-aloud books. Anyway, Saturday, books for me arrived! One of them has been on my wishlist for at least a year:




A Year in Japan by Kate Williamson. It's beautiful, and makes me want to start sketching. What I did instead though was pull out a spool of the Habu silk stainless that J got for me in NYC over the summer to start a scarf like Habu's Kusha Kusha kit (that's a Ravelry link). I don't have the kit or pattern, just the silk stainless, so I'm basing my scarf on the photos of other people's projects. I'm also planning to use a variegated laceweight mohair rather than merino, and I don't think I'll felt it. (I don't like felted mohair. Too muppet-like.) I will say about the silk stainless though - it takes some patience. It's very slow-going, and you'd better not be a perfectionist if you plan to knit with it. I took this photo on Sunday afternoon and my kusha-like scarf doesn't look any bigger even though I worked on it over two evenings. Each stitch must be slow and deliberate. I can't wait until it's a pleasing length and I get to add the mohair. It should go much more quickly double-stranded.

To round out my Japanese-inspired week, on Thursday night I get to go to a talk on campus given by Liza Dalby. I first heard about her several years ago when I became interested in Japanese women's pillow books and learned about Lady Murasaki. Ms. Dalby's novel had recently been published (actually I discovered it by accident at Costco), so I read it but became more interested in her other books to date, Geisha and Kimono. Both have been on my miles-long reading list for a few years. Dalby is an anthropologist, and I'm interested in her perspective on these subjects that interest me anyway. But now her most recent book, which I just found out about, is more appealing to me: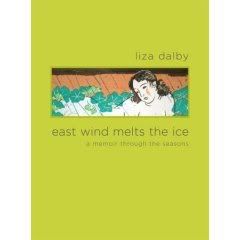 I'm interested in different forms of diaries and journals from both a personal and an academic perspective, so I'm excited about this book. I fully plan to break my "buy nothing January" and book-buying bans in order to have this in time to get it autographed. I'm really looking forward to her talk as I am sure it will be fascinating. Did I mention that she is the first and only non-Japanese person to have become a geisha? Yeah. I'll be sure to post Friday and let you know what it was like. Until then, I'll be slowly knitting and quickly reading.