I was hoping to have a banner done this weekend and do sort of a mini "re-launch" of the blog for 2008 today, but oh well. The new look will be done eventually, and I do have specific plans for more content. I'll get there.

I'm not really a New Year's Resolution sort of person. I do, though, tend to get sucked into the frenzy of organizing and starting new projects that is so prevalent in January. Inspired by Miss Violet (or Eliza B, as she'll always be in my mind anyway), I took a look at the 101 in 1001 project. But, when I sat down on January 3rd to think about it, I could only come up with 30 or so things, and that was really stretching it. I'm sure I could break some of them down more specifically and also think of a whole slew of smaller items to add, but I think I'm happy for now with my 30-ish items. Five or so of them are Big Things, especially the top four. Big.

1. New job
2. Move (back) to Seattle
3. Finish thesis/MA program
4. Get into MLIS program

See? Biggies. Not a single day goes by without me spending some time and energy worrying about that master's program that I abandoned early in 2005 - I was pregnant, working full time, exhausted, and had a lot of other things going on in my life at the time. At that point, I had one class and my thesis to go. That was it. It's an interdisciplinary humanities M.A. and my concentration is in critical theory and modern world literature in English. I'm interested in subjectivity and life writing, specifically diaries/journals. Now that it's been so long since I've even thought about these things, trying to get back into it is scary. Theory is tough, and having ignored it for nearly three years just picking up again is daunting. Plus my early classes are past their five year expiration date now, and I don't know what that means - possibly more coursework. This is a distance learning program, which was great in a way because it meant that I could live anywhere, move whenever necessary, and still stay in the program. It's also bad - I've figured out that I don't work well that way. I need the motivation of face-to-face scheduled time with a professor. But, I want to finish it. And then I want to do a MLIS program. I've been thinking about this for nearly four years. I hope, someday (when I grow up?), to work as a humanities librarian.

So, there are my big four. There are more specifics involved with the first two (and they actually lead to the fourth one), but I don't feel like going there today. Some of the other items on my list involve food and cooking, organization, writing and art, crafts with the girlie, and of course knitting. I'll share things here and there as time goes on. I'm not looking at is as a 101 (or 30) in 1001 project, but more of a list of things to remind me of my goals and interests and the way I want my life to take shape.

Wow, I don't think I originally intended to go into that with this post. This morning I wanted to finally write about this house that I see from the window of the bus every day on my way to work. But that really deserves a post of its own, since this one is already getting long and photo-less. I have found some toys I can share with you though. I used a banner maker from Mandarin Design to make the header graphics I stuck in my previous post. Scroll about halfway down the page to the "Code Your Own Banner" option. I also played with TypoGenerator (linked and explained on that same page) and got these: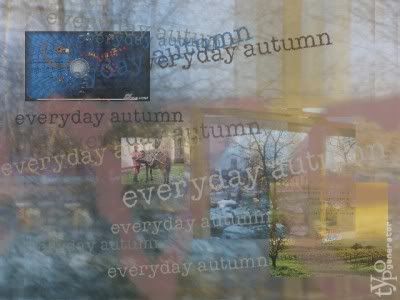 They look like postcards to me. Kind of fun. The other toy that I had never heard of and am now wondering WHY is the GIMP. Open source (free!) photo editing software that looks like it can do everything if only I could figure it out. I've never used Photoshop or even seen it before. My photo editing software is whatever the free thing is you get with MSN internet access. If you've used Photoshop even a little, you can probably easily use the GIMP. And it's free! My husband knows Photoshop from work, so I'm hoping to lasso him into helping me build some images similar to the CSS banners I made using the Mandarin Designs tool and my Flickr photos. Fun!

So anyway, I hope the new year is treating everyone well so far. I always feel like I get my sense of creativity and possibility back after the slump I tend to go through in late November and December (once the light goes away and it gets so dreary). Yes, this is Everyday Autumn, but I really mean early autumn. September and October? Yes! November and December? No, thanks. Can I skip? My crayon doodles for Mina, when she gives me a break from drawing penguins and Mr. Potato Head, are already all about grape hyacinths, alliums, and robin's nests. My favorite crayons right now from the box o' 96 are wisteria, purple mountains majesty, asparagus, robin's egg blue, chestnut, and copper. All right, I'm so chatty today! It's time for lunch!