With this sweater, that is.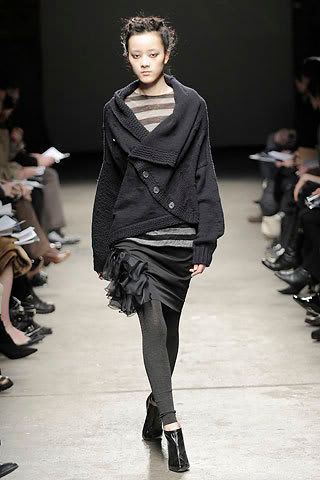 It's from the Fall 2008 collection of designer Yigal Azrouël, and I've been staring at it for days trying to figure out the construction. I'll get it, or something passably similar, eventually, and then it shall be mine.

Here's a random fact about me: I stalk style.com for the runway slideshows and obsess over every detail. I save photos for later reference. But when it comes to actually buying clothes, I'm totally, incredibly cheap. No way would I ever pay for designer clothing. But, DIY and knockoffs? I'm so there.

Which is why I was so excited to find out about MetaPostModernKnitting. Have you seen it yet? Go! I'm hoping for great things from this new online mag - I think it will only improve with each issue. It's a fabulous idea. What less would you expect from a group of knitting librarians?

As for my own knits. Well. I'll have things to show you as soon as photos can be taken. A finished and blocked Luna Moth, and my little spring fling knitting cast on in a moment of rebellion against boring sleeves.